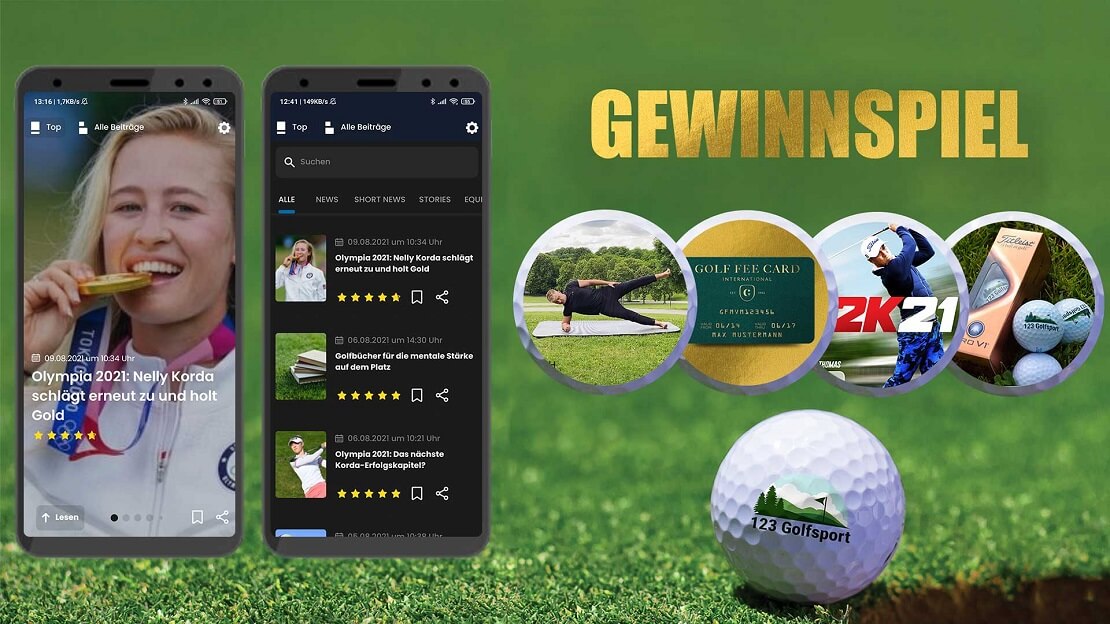 Golf everywhere with the new app: 123golfsport.de is celebrating the launch with a big contest
10. August 2021
Golf fans are now always up to date. 123golfsport.de is the modern online magazine, and has now published the first comprehensive golf app in all German speaking countries. Now you can install the 123golfsport app for Android free of charge in the Playstore.
"Mobile friendly" has been the motto of 123golfsport.de since it was founded in 2020. That is why the development team of the modern golf magazine paid attention to up-to-date and responsive web design. Our team is now taking the next step in publishing the 123golfsport app.
Recent news, golf reading material to enjoy or tips and tricks for your own training: golfers and golf enthusiasts can now get all the articles in the online magazine in real time on the mobile app. The push notification informs the user immediately when something happens. The interface is attractively designed and reader friendly – whether at home or on the go.
Contest with attractive prices for the launch of the app
"As of now, there was no comprehensive golf app in the German speaking market," explains chief editor Jan Herzmann. "We are filling this gap ourselves. We're happy that we can now reach our readers even better on the move".
123golfsport is the "golf magazine for everyone". From beginners to professional players, from PGA Tour addicts to casual viewers. This philosophy is also clearly visible on the app. News reporting is offered as well as training tips, historical landmarks from the major tours or golf course portraits. Thanks to the clear menu navigation, each user can filter the content relevant to him and thus draw the best possible value from the extensive world of 123golfsport.
The 123golfsport team is celebrating the launch of the app with a two-part competition. From green fees to golf balls, from video games to online coaching: There are attractive prices waiting for passionate golf lovers over a period of four weeks. To participate, all you have to do is fill out the form on the competition page – and from then on: keep your fingers crossed!